Achieve and sustain homeownership with the FinLocker financial fitness app
FinLocker is a secure financial fitness app to help you confidently manage your financial life so you can establish positive financial habits and achieve your financial goals.
The FinLocker app provides tools and resources to help you build and monitor your credit and manage all your financial accounts in one place, in real-time. Create goals and budgets to save for a home down payment, buy a car, pay down student loans and credit cards, or whatever matters most to you.
FinLocker's intuitive tools make managing your financial life easier
---
Manage all your financial accounts in one place
Get a consolidated, real-time view of every transaction in all enrolled bank accounts, credit cards, auto loan, student loan, retirement, and investment accounts.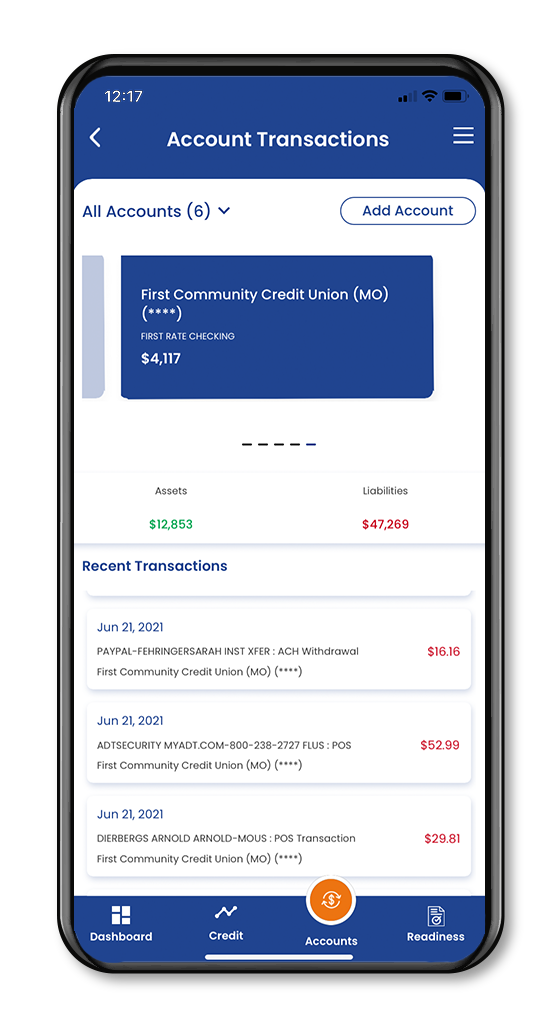 Build and monitor your credit
Receive your credit score, credit report, and credit monitoring from TransUnion. Track payment history, and get notified when your credit score increases or decreases. FinLocker does a soft credit check, so it won't affect your credit score.

Make informed spending decisions
FinLocker categorizes every transaction in your enrolled financial accounts and provides a visual summary of your spending history.
Improve your financial literacy
Improve your knowledge of the mortgage process by watching short home buying videos in the app. Additional resources explain mortgage terms, mortgage programs, the mortgage process, and factors that impact your credit.
Make informed credit decisions
An interactive credit simulator takes the guesswork out of credit decisions by showing how various credit scenarios could lower or increase your credit score in the future. The credit compass provides tips to build your credit score.
Create trackable saving goals and budgets
The categorized transactions make it easy to create custom budgets, trackable savings goals, and project cash flow to pay down debt, save for your down payment and closing costs, and plan how to achieve other financial goals.
Discover your path to homeownership
---
Get a homebuying budget that suits your income
Use the home affordability calculator to receive a home buying budget and a monthly mortgage payment that fits your income. Compare loan options and the amount to save for your down payment and closing costs. Within a few clicks, create a trackable goal to save for these costs.
Track your progress toward homeownership
See your real-time progress toward being mortgage ready. You'll be given an action to improve your mortgage eligibility, such as increase your credit score, save more toward your down payment and closing costs or reduce your debt-to-income ratio.
Search for a new home or investment property
Start your home search from the app. Search for homes within a price range, preferred zip codes, home types, and number of bedrooms.
Homes that qualify for a down payment program will be highlighted.
Save documents for your mortgage application
Securely store the financial documents you'll need for a mortgage application and personal documents to easily access at any time.
FinLocker protects your financial data with bank-level security. Data is stored using AES-256 encryption and encrypted during transfer to your lender.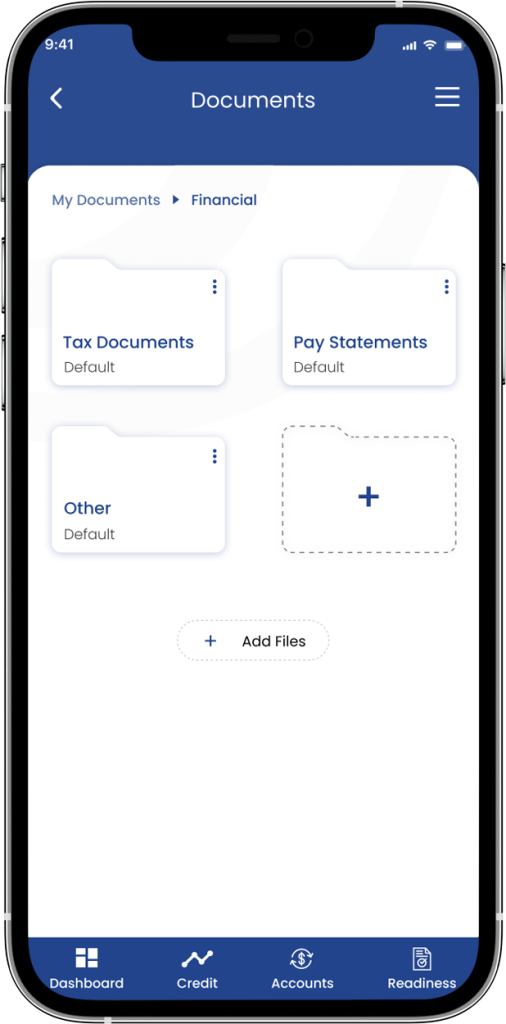 Start your mortgage application
Connect with your loan officer or lender through your app when you're ready to start a mortgage application.
Share your financial data and documents with your loan officer through the app to streamline the mortgage application process and help your lender to make a decision faster.

Continue using the app to sustain homeownership
Monitor your home value and home equity. Track your net worth. See homes recently sold in your neighborhood.
Continue using the app to manage your money, monitor your credit, save for an emergency fund, and achieve more financial goals.