LEAD to LOAN to CUSTOMER FOR LIFE Platform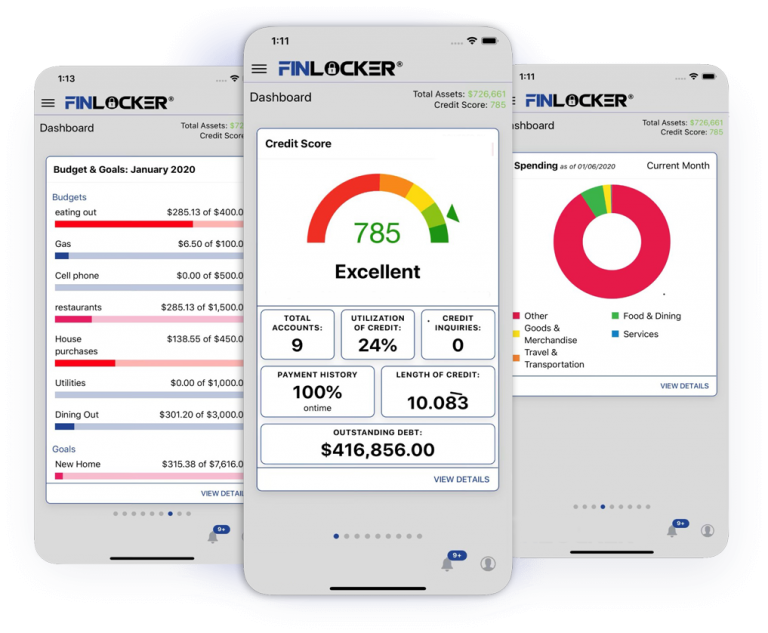 FinLocker is a personal financial assistance tool that enables users to financially prepare to apply for loans and other financial transactions.

With consumer consent, FinLocker

 

captures key borrower data (e.g., assets, income, taxes, credit, real estate, credit, insurance, and more) and applies intelligent analytics such as loan product recommendations based on a consumer's financial profile, asset and income verification, and more.

 

FinLocker users have access to additional innovative features, such as first-time homebuyer preparation, and a real

estate

search. Plus, an extensive library of educational resources on credit, mortgage process, homeownership, college funding, auto loans and credit cards.
Jan 13, 2021 // Brian Vieaux, FinLocker
Jan 12, 2021 // FinLocker
Oct 30, 2020 // Eric B., FinLocker
Oct. 19, 2020 // Eric B., FinLocker
Sept 10, 2020 // Eric B., FinLocker
June 9, 2020 // Brian Vieaux, FinLocker
May 24, 2020 // FinLocker
March 24, 2020 // FinLocker
January 30, 2020 // FinLocker
How FinLocker is streamlining the Lending Process
CENTRAL REPOSITORY OF INFORMATION
A secure data and document vault
AUTOMATED DATA AGGREGATION AND AI
With consumer's consent, FinLocker retrieves and aggregates data from trusted sources and applies AI for insights and recommendations
Lenders can communicate with the consumer and offer promotions, products, customized notifications or personalized recommendations
Borrowers are given unprecedented insight into and control over their data, giving them greater confidence
Multiple layers of security and rigorous controls protect both consumer and lender data
PERSONALIZED RECOMMENDATIONS AND CROSS-SELL OPPORTUNITY
Lenders may leverage data to make personalized recommendations and streamline digital transactions
UP-TO-DATE FINANCIAL TRANSACTIONS AND BALANCES
Balances updated as recent as the previous business day
VERIFY INFORMATION DIGITALLY + ANALYTICS
FinLocker's Day 1 Certainty asset verification and income analysis streamlines loan processing and underwriting
The Desktop Underwriter® (DU®) validation service (from Fannie Mae) uses third-party data vendors to independently validate borrower income, employment, and asset data, providing Fannie Mae lenders Day 1 Certainty® on validated loan components. FinLocker is an authorized report supplier of asset validation through Desktop Underwriter®.
FinLocker is a member of the Mortgage Bankers Association
FinLocker has gone through the rigors of a third party that provides reports intended to meet the needs of a broad range of users that need detailed information and assurance about the controls at a service organization (FinLocker) relevant to security, availability, and confidentiality of the systems the service organization (FinLocker) uses to process users' data and the confidentiality of the information processed by these systems.