Mortgage lenders and servicers use FinLocker to create customers for life
Mortgage originators currently have their hands full generating new leads and nurturing prospective homebuyers toward mortgage readiness. It's no wonder customer retention marketing is a lower priority for many mortgage professionals. Yet, there are significant financial rewards for those who successfully stay engaged and retain customers.
Increase customer retention
---
FinLocker is the customizable high-tech solution your company needs to retain more customers
Earn your customer's loyalty by offering them borrower a private-labeled FinLocker. Rather than juggling multiple tech solutions to monitor their credit, home value, and equity and manage their personal finances, mortgage companies can offer an all-in-one financial app. Private labeling the app provides a meaningful way to stay top-of-mind while your customers interact with the FinLocker tools in your branded platform.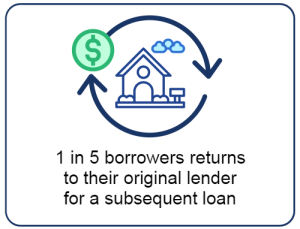 Stay meaningfully engaged with your customers
Display customized messages in the app to cross-sell products or encourage homeowners to take specific actions.
Gleam real-time signals of a customer's financial profile like their intent to refinance or purchase a new property.
Use data-driven insights to deliver hyper-personalized communications to customers
Save time and simplify new transactions
Your customers can start a new loan application with your company directly from their app by sharing their financial documents and data.
Saved information prefills the mortgage application in your LOS, streamlining the application process for both parties.
Retained customers become brand ambassadors
Your competitors are all offering the same products, and you have very little price flexibility, so the service you provide each customer is what creates loyal brand ambassadors.
Brand ambassadors are more likely to provide referrals to family, friends and neighbors, and return to you for future transactions.
Hear from Ryan Grant, Co-Creator/Division President with NEO Home-Loans, how the FinLocker-powered NEO Experience app empowers his team to create customers for life by being the mortgage advisors that help their customers build wealth through homeownership.
Create customers for life and increase your customer retention rate