FinLocker provides individual loan officers & brokers with a complete engagement solution to grow and retain your business
Mortgage originators who are not a part of an enterprise solution with FinLocker can now have their own branded FinLocker with all the benefits of HomeScout Pro
---
Enhanced lead generation
Cast a wider net to build your database, knowing that you have a tool that engages, nurtures & educates for the entire homeownership journey
Generate leads by responding to early signals a consumer is entering their homebuying journey
Grow your database with prospective homebuyers and high-rate mortgage homeowners
Increased engagement & conversion
Hyper-personalized communications nurture prospective homebuyers through their homebuying journey with tools that help you to manage a larger pipeline
Persona-based journeys help first-time homebuyers overcome challenges to improve their mortgage eligibility
Protect your database from triggering actions – credit score, home search – that alert the competition
Build valuable realtor relationships
Provide realtors with time-saving neighborhood and home value reports to move their properties faster
Co-brand your marketing with your real estate agent partners
Create customers for life
Provide a seamless homebuying experience that will create raving fans who will want to provide testimonials and referrals
Data-driven communications keep you meaningfully engaged with homeowners to retain and obtain future transactions
Vida Pro $225 per month
75 lockers with the license
5 partner agents for co-branding
Unlimited contacts in HomeScout database
+ Add on additional Lockers and Agents for a small fee
Vida Pro Lite $180 per month
50 lockers with the license
5 partner agents for co-branding
Unlimited contacts in HomeScout database
+ Add on additional Lockers and Agents for a small fee

Vida is a secure, all-in-one financial wellness app to help your customers confidently manage their financial life so they can establish positive financial habits to achieve homeownership.
Use the Vida app as a call to action on social media and email marketing to generate homebuyer leads and manage a larger pipeline.
Personalized data-driven journeys drive consumers towards mortgage readiness, empower them to present themselves to you with their identity, credit, employment, income, and assets verified, and streamline the mortgage application process for all parties.
The Vida app provides homebuyers with tools and resources to help them build and monitor their credit, manage their financial accounts in one place, make informed spending decisions,  and improve their financial literacy.
Homebuyers can use the affordability calculator to receive a homebuying budget with a monthly mortgage payment that fits their income and the amount to save for their down payment and closing costs. Within a few clicks, they can create a trackable goal and budget linked to one or more of their enrolled financial accounts to save for these costs.
Vida makes it easy for homebuyers to track their progress toward mortgage readiness. Vida perpetually analyzes their enrolled financial data to show in real time their progress and what they need to do to get mortgage ready. Homebuyers can share the results of their Homeownership Snapshot with their loan officer for advice or to notify when they are ready to get pre-qualified.
Vida has integrated the HomeScout property search, so homebuyers never need to leave the app to find a home within their price range and preferred zip codes.
Stay top-of-mind and connected to your customers by branding your Vida app with your photo and contact information.
Loan officers receive consumer actions and progress so they know when a homebuyer has increased their credit score and down payment savings to qualify for a mortgage.
Homeowners use the Vida app to sustain homeownership, monitor their home value, equity, and net worth. When they want another transaction, they contact you directly through their Vida app.
Your own Branded Home Property Search Site
Your branded HomeScout site keeps your contacts and prospects tied to you and away from competitor sites by providing an exceptional experience for home buyers and sellers.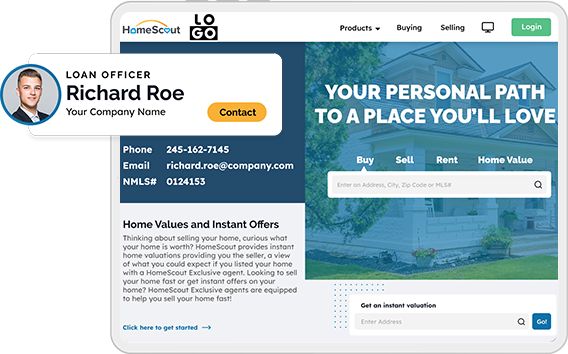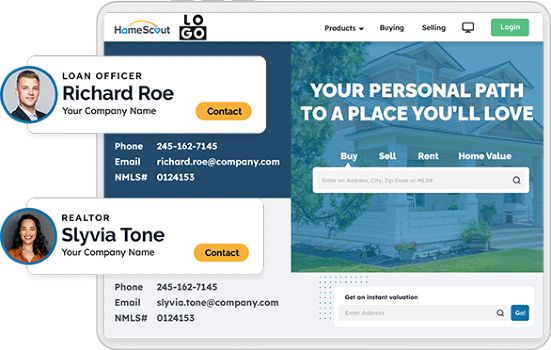 Co-Branding on HomeScout Sites and Vida App
Build and enhance your real estate partnerships with co-branding opportunities. Each Vida Pro subscription includes 5  additional co-branded sites to strengthen your strategic partnerships.
HomeScout Insights
Deliver to your real estate agents, real-time Home Value and Neighborhood reports with your branding.
Your real estate agents will appreciate the convenience of the comparable sales and homebuyers will find the neighborhood market report valuable for their home search.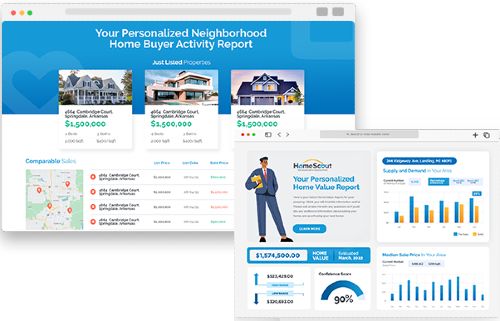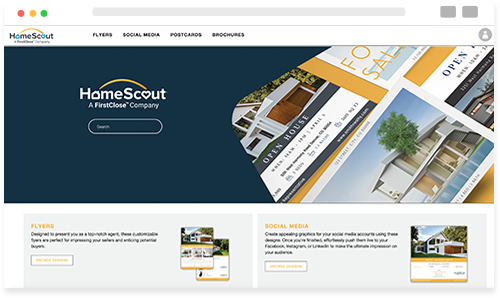 HomeScout Marketing Center
Amplify your marketing using the HomeScout Marketing Center. Seamlessly create marketing materials, such as open house flyers, emails and social media, using a library of templates that can be customized with your branding and co-branded with your real estate partners.
Database Management & HomeScout Intel
The DASH has all the capabilities and features you need to better manage your database, identify your most promising opportunities, keep track of your appointments and follow up calls, and remain connected to your contacts.
To enhance your database with additional information, your contacts will be run against HomeScout Intel, an AI-based intelligence system, to update contact info, wealth events, job changes and other valuable data points. Additionally, identify contacts in your database who may have public record lifecycle events happening such as marriage or divorce, to help you identify those who are most likely to buy or sell a home in the near future.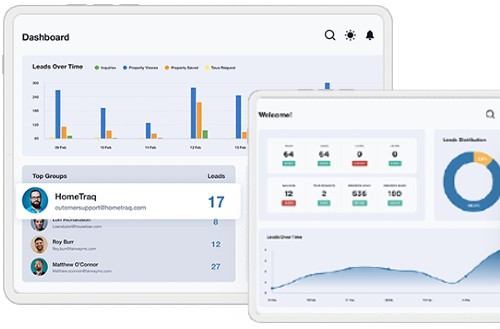 Vida Pro  $225 per month
75 lockers with the license
5 partner agents for co-branding
Unlimited contacts in HomeScout database
+ Add on additional Lockers and Agents for a fee
Vida Pro Lite $180 per month
50 lockers with the license
5 partner agents for co-branding
Unlimited contacts in HomeScout database
+ Add on additional Lockers and Agents for a fee
See the ROI of a Vida Pro subscription
Your best year starts today!